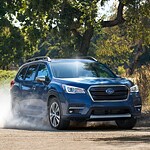 If you are in the market of a three-row SUV, you definitely want to take a look at the Subaru Ascent. The Subaru Ascent is one of the most popular three-row SUVs on the streets today. A primary reason why the Subaru Ascent is at the head of the proverbial pack is because of its award-winning features.
The outstanding features on the Subaru Ascent include X-MODE. X-MODE is a feature unique to Subaru and provides added driving stability when descending down steep grades. The Subaru Ascent comes complete with a remarkable 5,000-pound or 2 ½ ton towing capacity.
You can learn more about the Subaru Ascent and obtain answers to you questions by visiting Subaru of Morgantown at your convenience. In addition to obtaining more information, you can get a feel for the Subaru Ascent up close by taking it for a test drive.