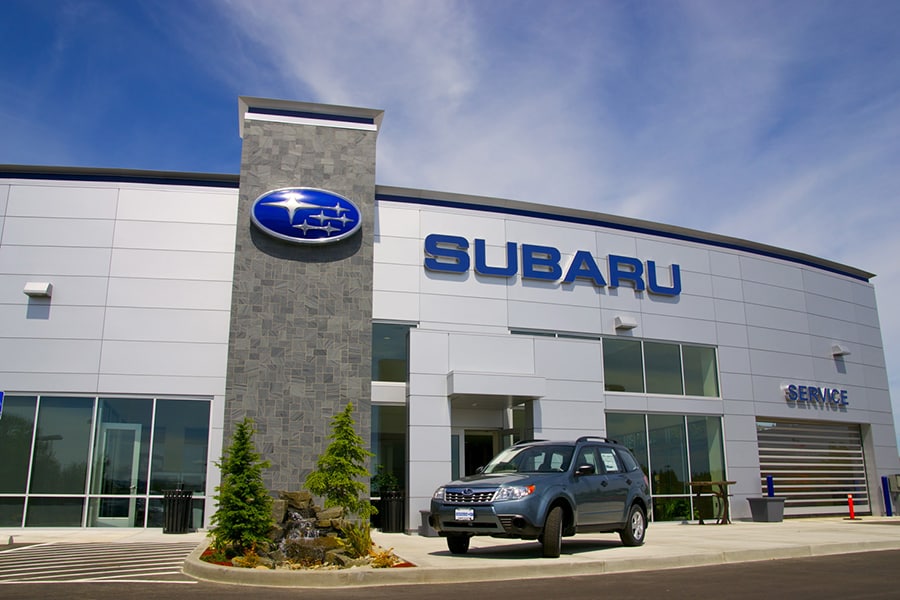 There Are Many Reasons to Visit Subaru of Morgantown
Why Should You Shop at Subaru of Morgantown?
Subaru of Morgantown wants to help you with any of your automotive needs, whether that means working with you to find your next vehicle or providing quality repairs on your current Subaru model. And that's the first reason you'll want to visit us: our dedication to assisting you and providing superb customer service. When you come to our dealership, you can count on having an enjoyable and straightforward shopping experience, ensuring that each visit is worthwhile and successful.
On top of our phenomenal customer service and a team of experts, there are several other advantages to visiting Subaru of Morgantown, and we are excited to tell you more below.
1. Expansive New and Used Inventories
Subaru vehicles are known for being incredibly durable, versatile, and innovative, making any new Subaru model a smart investment. Thankfully, Subaru of Morgantown has a massive selection of new Subaru cars and SUVs for you to browse. And if you don't find what you want right away, you can rest assured because we share inventories with other Subaru dealers, broadening your choices even more. These are some of the new Subaru models generating buzz among drivers:
We also have a wide array of stunning pre-owned models for shoppers that want to save even more money while upgrading to a better vehicle. You'll find all sorts of attractive, used vehicles at our dealership, including several fan-favorite used Subaru models. So, no matter your budget or feature preferences, you'll find the right new Subaru model or pre-owned vehicle at Subaru of Morgantown.
2. Free State Inspection
Picking out your favorite new Subaru model or pre-owned vehicle is just the first step to the purchase and lease process. Thankfully, Subaru of Morgantown is here to make the buying or leasing journey quick and easy. That's why we are happy to offer free state inspections when you shop with us. Having an official and accurate state inspection is required to get your vehicle registered. And since we want you to enjoy your new or used vehicle sooner, we decided to offer this service for free.
3. Proudly Offering Rental Services
Whether you need a rental vehicle to drive while your ride is being serviced or if you need a different body style for a specific adventure, Subaru of Morgantown is here to help you. No matter why you need a temporary mode of transportation, you can rent a Subaru vehicle from our dealership in no time. We have various models available to rent, allowing you to choose one that will fulfill your driving needs while you're renting it.
The best part is that we offer competitive rental rates for both daily and weekly rentals for up to 30 days, ensuring that you have a ride for as long as you need without breaking the bank. Plus, you can trust us to make the car rental experience hassle-free and fast so that you can get back to your hectic schedule sooner rather than later.
4. Complimentary Loaner Vehicles
While having your Subaru car or SUV serviced regularly is vital to lengthen its lifespan, Subaru of Morgantown recognizes that it could cause a hiccup in your busy life. That's why we offer complimentary loaner vehicles while your ride is getting worked on in our Subaru Service Center. By offering you a loaner vehicle, we hope to make servicing your vehicle less of a burden by giving you a mode of transportation while you wait for us to perform expert repairs and maintenance.
Visit Our Morgantown Dealership Today!
Our staff at Subaru of Morgantown is excited to show you how we stand out from other dealers in the area. So, visit us today and let us help you solve all your automotive needs.
Read What Some of Our Customers Have to Say!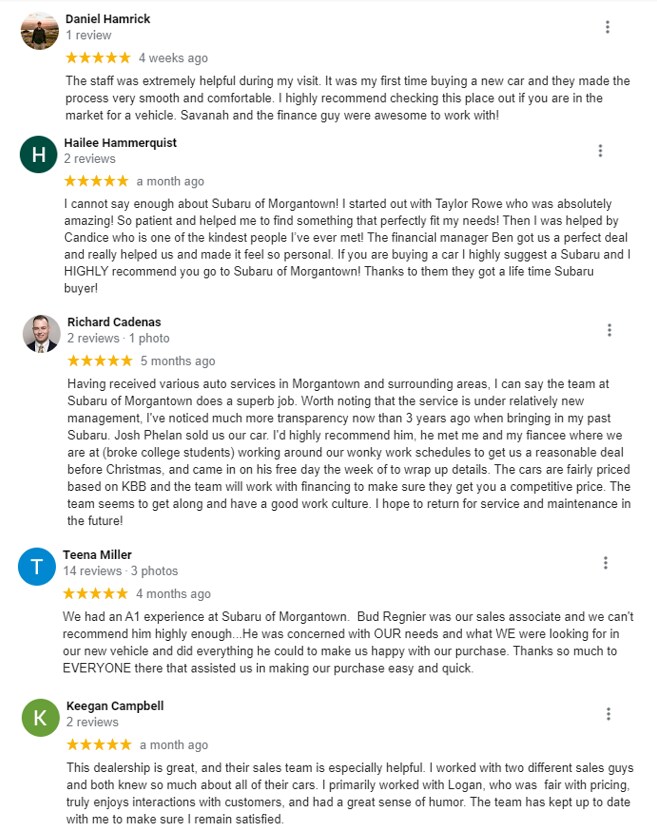 Hours
Monday

9:00AM-8:00PM

Tuesday

9:00AM-8:00PM

Wednesday

9:00AM-8:00PM

Thursday

9:00AM-8:00PM

Friday

9:00AM-6:00PM

Saturday

9:00AM-5:00PM

Sunday

Closed