Discover Certified Subaru Service in Morgantown
When it's time to bring in your Subaru model for maintenance or repair, you don't want to go just anywhere in the Brownfield, PA, area. At Subaru of Morgantown, we serve Uniontown, PA, and beyond by providing the speed, precision, and affordability you need to keep your vehicle running smoothly. Whether it's a complicated repair or regular auto service, our team is here to help. 
Professionalism You Can Trust
When you come to our service center, you can expect a completely different experience from what you would find at your average repair shop. We offer a modern facility, specialized equipment, and a team of certified professionals. Our Subaru-certified technicians know the intricacies of each Subaru model to ensure your vehicle gets the care it needs.
Some of the services we provide include:
Tire Rotation
Wheel Alignment
Many repair shops don't have the knowledge or equipment to service your Subaru while following factory standards and manufacturer best practices. With our experience, you can expect shorter wait times and a higher degree of precision. We even offer service specials to help drivers save money and stay up to date with their recommended service schedule.
The Importance of Routine Maintenance
Regular auto service is the only way to keep your vehicle running smoothly and maximize its longevity. We are here to help by offering competitive rates while offering the streamlined experience you expect from the Subaru brand. Consulting your owner's manual and working with our service specialists is the best way to stay on top of needed maintenance.
By staying ahead of your service schedule, you can avoid preventable damage, maintain a higher value, and increase longevity.
Schedule Auto Service
If you're ready for a better way to service your car near Kingwood, WV, contact our service center today to schedule a service appointment.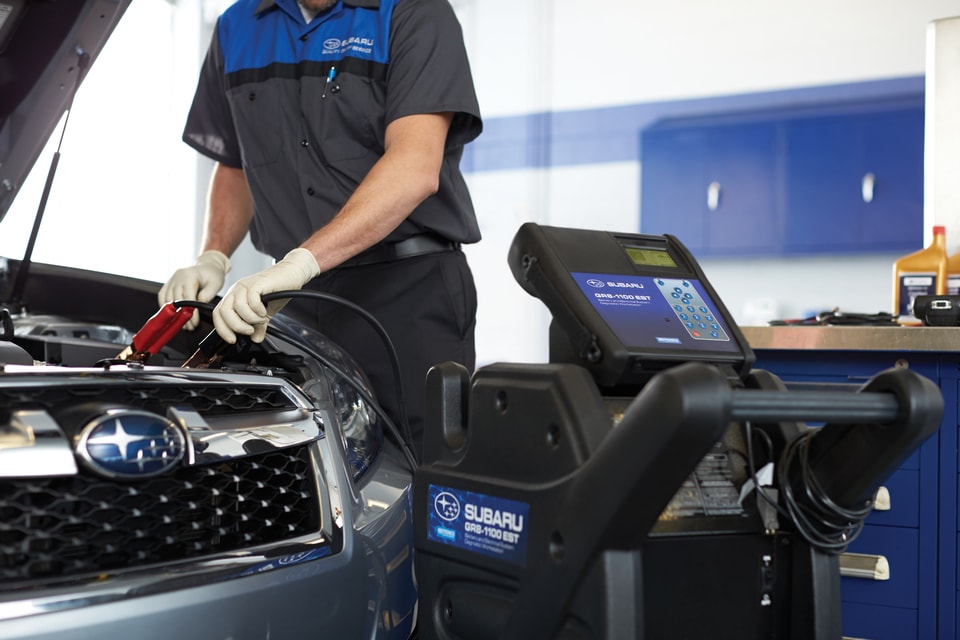 Quality Subaru Maintenance From Your Local Dealership in Morgantown
Our Subaru service center in Morgantown is fully equipped to handle all of the routine maintenance needs your vehicle requires for smooth performance and longevity. Every Subaru vehicle needs routine maintenance! From oil changes to multi-point inspections, our fully-licensed technicians take care of your car.
The Importance of Routine Maintenance
Routine vehicle maintenance is an important part of vehicle ownership no matter where you live in or around Uniontown, PA. No matter which Subaru model proudly sits in your garage, routine maintenance prevents breakdowns and problems that stop Brownfield, PA drivers from enjoying their vehicles to the fullest. It saves money, prevents worry, and retains re-sell value should you decide to upgrade or sell the car in the future. Every 30,000, 60,000, and 90,000-miles with several services in between, your vehicle needs maintenance service.
We offer high-quality routine maintenance from certified mechanics who care about your vehicle. Our knowledgeable Subaru technicians understand the importance of maintaining a vehicle and put their skills to work to keep your vehicle running efficiently for longer.
This following list looks at some of the most common routine maintenance services your vehicle requires for optimal performance and longevity.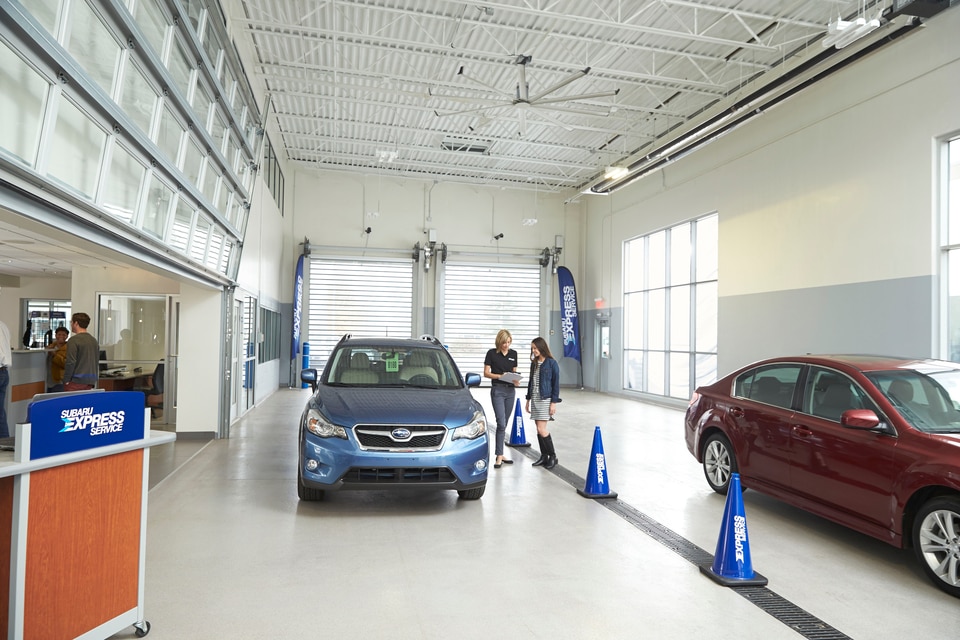 Multi-Point Inspection
A multi-point inspection is an evaluation of your vehicle and all of its major components, including fluids, hoses, brakes, and the electrical system. A multi-point inspection is your vehicle's best defense against a breakdown. The information our technicians gather during this vehicle inspection prevents problems that could leave drivers stranded on the side of the road. The inspection also saves drivers ample amounts of money.
Brakes
The brakes are one of the most important components of a vehicle. Over time, brake pads wear out, and damaged rotors and other issues may cause the inability to stop your car. The result is usually an accident. Brake pads should be replaced every 12,500 miles while the brake fluid needs to be changed once every 25,000 miles.
Tire Rotation
Drivers should inspect their tires every month, checking the tread depth and wear and tear. If the tread on the tires is low, it's time to replace them with a new set of four tires. Tire rotation and balance is usually included during every oil change. Following this rotation schedule prevents excessive tread wear and other breakdowns that may cause a flat or the need for new tires sooner than normal.
Oil Change
An oil and filter change every 6,000 miles ensures optimal vehicle performance. This is one of the most important services for a vehicle. Oil changes prevent engine sludge and vehicle breakdown, reducing the need for expensive repairs. Kingwood, WV drivers that adhere to the recommended oil change schedule maximize vehicle performance and minimize their fears of expensive repairs. This is one of the most important services for your Subaru vehicle.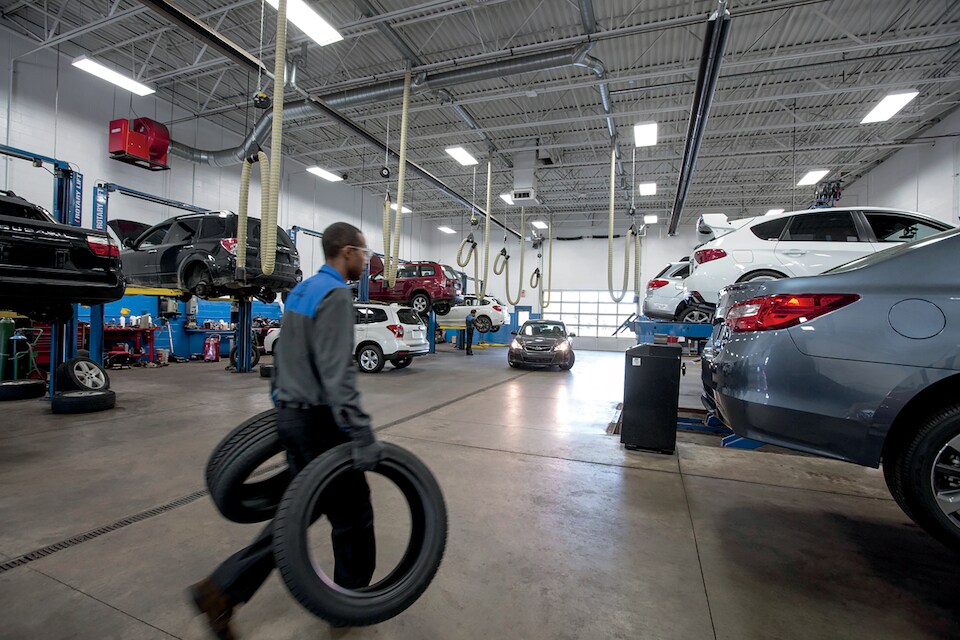 There are many instances in which you'll need service for your vehicle between the regular recommended intervals. Do not ignore signs of trouble with the vehicle or assume that waiting until your next service is okay. Immediate attention to vehicle damage and problems saves time, money, and worry. Our technicians offer service whenever it is needed, regardless of the cause of concern.
Schedule Your Routine Maintenance at Subaru of Morgantown
Subaru service centers use the latest tools, equipment, and technology that allows our certified technicians capabilities that aren't available at the repair center around the corner. While rates are sometimes cheaper elsewhere, you get what you pay for. We never sacrifice quality or cut corners when you trust us for your routine maintenance needs. There's no room for error when it's time to protect your Subaru. We vow to provide high-quality vehicle maintenance at affordable prices for all of our Morgantown customers.
Is it time? Schedule a routine maintenance appointment with us online!